Welcome to our mailing list
Thank you for joining the ELLMAN mailing list. We are looking forward to sharing our future updates and releases with you. In appreciation of your interest, we would like to offer you the opportunity to purchase a Welcome 6-Pack Allocation of our wines with complimentary shipping.
*Heat Advisory*
Please note, areas with high temps over 80 degrees will cause ground shipments to go on weather hold. To expedite the shipment, we recommend you select 2-day or next day air shipping method if you wish to receive your order more timely.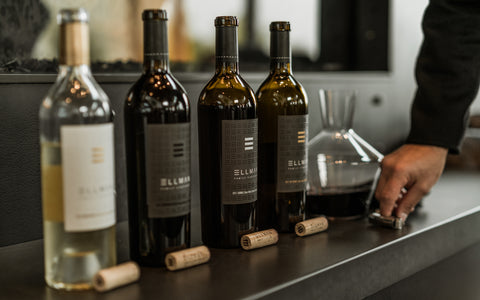 PLEASE SELECT UP TO SIX WINES
BELOW FOR YOUR WELCOME ALLOCATION
2022 Caryn Renae Sauvignon Blanc

97% Sauvignon Blanc, 3% Sauvignon Musqué

The 2022 Sauvignon Blanc does indeed show the intensity of the vintage.  Whole-cluster pressing, barrel fermentation, and extended lees contact give the wine a purity, a broad palate impression, and a lingering, fresh finish.  Only a small percentage of new French oak means that the wine is framed by subtle spice notes, but the fruit is the star of the show.  Aromas of grapefruit, lemongrass, and white peach are the first impressions.  On the palate, the citrus notes dance along with subtle notes of vanilla bean and Amalfi lemon drops.  The wine is mouthwatering, juicy, and long, and will certainly be well received as a spring and summer treat.

$75.00

2019 Jemma Napa Valley Cabernet Sauvignon

100% Cabernet Sauvignon (100% Ellman Estate)

Focusing solely on the Ellman Estate vineyard, the perennial elegance of Jemma reigns supreme in the 2019 vintage. With a profound, dense ruby hue, our ethereal 2019 Jemma performs a playful dance of sweet and savory movements. Bounteous aromatics of freshly harvested fruits and flowers from a basket of sweet violets to just-plucked blackberries from the vine comingle with layered notes of bouquet garni, espresso crema, and transportive salumi like lardo di colonnata and finocchina. Effusive on the palate, it whisks you away for a walk in the woods with heady fragrance of freshly upturned earth, garriqgue and bramble fruits, all from the comfort and warmth of your perch. Muscular and weighty, the dark fruit character is precisely framed with concentrated yet chocolatey tannins, and a lingering, suffusive finish. Aptly paired with a classic Entrecôte Marchand de Vin, or if you are feeling adventuresome, a savory wild mushroom Wellington.

$210.00

2020 The Estate Napa Valley Cabernet Sauvignon

100% Cabernet Sauvignon (Ellman Estate Vineyard)

The wine is a reflection of a warm Napa Valley summer. The fruit is dark and rich, the tannins are bold but rounded, and the wine itself has a depth and density that we look for on our estate vineyard. Our vineyard delivered fruit with the normal purity and intensity that translates into classic Napa Valley Cabernet Sauvignon. Cassis, blueberry, and raspberry tones are the highlight, along with notes of dark chocolate, mocha, licorice, and vanilla bean. The 2020 vintage of The Estate is a wine for aging. After 19 months in barrel, and nearly a year in bottle, it is still dense and powerful, but at the same time balanced and nuanced. 





$250.00