Seasonal Release Launches and Notes
SIGN UP
By joining the ELLMAN mailing list, you will have the opportunity to participate in our seasonal release launches powered by EQL Run Fair as well as seasonal updates from us.
We would like to thank you for joining our list by extending a Welcome 6-Pack Allocation with inclusive shipping upon completion of the form below.

You will be notified in advance as to when the release launch window will open. Please create a profile and save your password to ensure a seamless login.
Our Spring release launch will go live on Tuesday, March 19th at 9:00AM PST.

If you have any questions, please contact us. We look forward to sharing our wines with you and thank you for your support.
You can find more information on EQL powered launches here.
- - - - - - - -
Experience Ellman For Yourself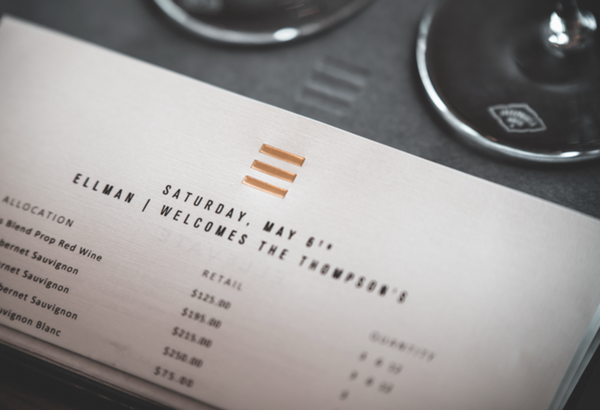 SIGN UP FOR OUR MAILING LIST TO GAIN EXCLUSIVE ACCESS TO OUR SEASONAL RELEASE LAUNCHES

YOU WILL BE NOTIFIED BY EMAIL ABOUT OUR UPCOMING RELEASES
PURCHASE WHEN AVAILABLE AS PRODUCTION IS LIMITED